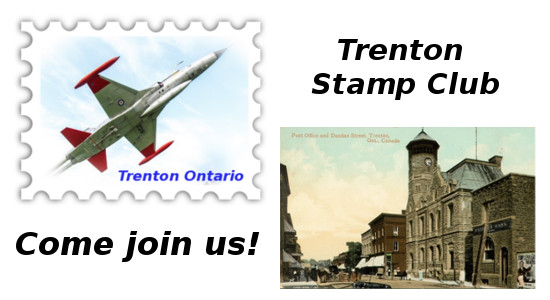 Trenton, Ontario
Stamp Club
The Trenton Stamp Club has been active since the 1940s. Currently, we have about 25 active members of all levels of experience, from beginners to experts.
Visitors are always welcome. Whether you are an advanced collector, a beginner looking for basic guidance, or inherited a collection and need some advice, you're welcome to visit and to join. We're always happy to help.
Where we meet
We meet at the Seniors 105 Club, 61 Bay St. Trenton
Here is a map, courtesy of Google Maps:
Our Meeting Schedule
We meet the 1st and 3rd Wednesday of every month, from 6:30pm to 8:00pm, throughout the year. Visitors and new members are always welcome!
See our meeting schedule as well as special events!
Meeting & Events Schedule
Website design and hosting of this site is courtesy of
StampBuyerCanada.com

Buying collections of stamps, covers and postcards
Free Appraisals
Inherited a collection you don't know what to do with?
A member of the Canadian Stamp Dealers' Association attends many meetings. He offers free appraisals for collections brought to the club. To make arrangements for an appointment, please call Roy Lingen at 613-374-2091. (Please mention that you saw the Trenton Stamp Club website.)
If your collection is too bulky to bring to the club, he can also make "house calls" for suitable properties that are for sale. Please call with a description of the collection. You may also send pictures of the collection to Roy at roy@lingens.com. Please mention the Trenton Stamp Club in your email.